Seventeen people have been killed and 23 others injured when a passenger bus was involved in a head on collision with a truck in the Madhya Pradesh region of Northern India.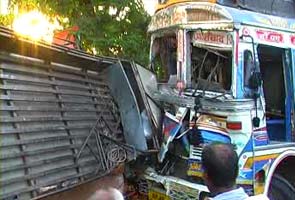 The incident occurred approximately 20kms from the city of Chhatarpur, near Naugaon Navodaya Vidyalaya, at around 7am on Tuesday morning. According to police officials, the bus was en route from Harpalpur to Chhatarpur when it collided head on with a truck bound for Naugaon. The truck was loaded with cement.
Emergency medical services and rescue personnel, including the Chhattarpur Collector Rajesh Bahugun and other police officials responded rapidly to the accident. Rescuers worked tirelessly for hours to remove the bodies of the deceased and rescue survivors of the incident from the wreckage of the bus.
12 of the passengers on the bus died instantly, while a further four died of their injuries while being transported to hospital. Since this morning, one other passenger has died, bringing the total death toll to 17. 13 of the surviving passengers who were injured were admitted to the Chhatarpur district hospital, while eight remain in a serious condition. The remainder of the injured passengers were transported to the Nougaon civil hospital, where they are completing treatment for non-life threatening injuries.
Collector Rajesh Bahugan has announced that the district will be offering compensation of one lakh Rupees each to the families of the deceased, and 10 000 rupees each to the injured passengers.
In addition, the Madhya Pradesh Chief Minister, Shivraj Singh Chouhan, has announced further compensation of 50 000 rupees to be given to each of the seriously injured passengers to assist with medical expenses. Minister Chouhan has expressed grief and regret over the incident, and has extended the district's condolences to the family members of those who died in the accident.
Police officials have released a list of names of the bodies with known identities. Two of the deceased are yet to be identified, and the Madhya Pradesh police encourage those looking for news of family members to contact them directly.
Police and government officials will be conducting a thorough investigation into the accident. It is not yet clear who was at fault in causing the collision, and police will be interviewing the surviving passengers once they have recovered from their injuries to establish whether the bus driver, who passed away in the incident, was to blame.
Indian roads have some of the highest death tolls for road traffic accidents in the world.