A Nassau Inter County Express bus smashed into a home in Hempstead, New York on Tuesday night, killing a 6 year old boy who was inside the home and injuring 12 others, said Nassau County Police.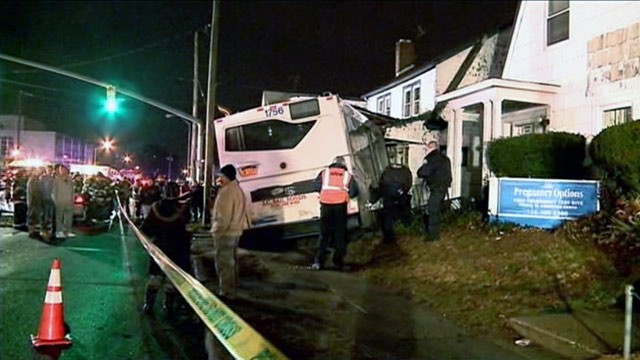 The accident occurred when the bus driver attempted to avoid hitting a pedestrian in the residential area, swerving suddenly off the road and veering into a home. The accident occurred at approximately 9.30 pm on Tuesday night, when the Route N70 Inter County Express bus was travelling along Fulton Avenue in Hempstead.
According to police reports, the 50 year old driver noticed a man standing in the middle of the road. The driver honked his horn a number of times to warn the pedestrian, who is as yet unidentified, However, the man continued to walk towards the bus in the centre of the road. The driver was forced to veer to the right in order to avoid hitting the man, said a police spokesman at the scene of the accident.
The bus veered sharply to the right, striking the pedestrian and hitting the curb before smashing into a home at 505 Fulton Avenue. A six year old boy, David Granados, was sleeping in the front bedroom of the house at the time. The bus caused significant structural damage to the home, and the boy was pinned by debris. Authorities from the Hempstead Police department and fire department extracted the boy from the debris. They performed CPR on the child and transported him to Winthrop University Hospital, where he was pronounced dead by hospital staff, said police.
Another child, aged seven years, was also sleeping in the bedroom at the time. He sustained only minor injuries and was taken to a local hospital for treatment.  The 35 year old pedestrian also sustained minor injuries and was admitted to hospital.
There were 11 people on the bus at the time of the accident, 8 of whom sustained minor injuries and are currently being treated in local hospitals. Their conditions are not currently known.
Police officials are currently investigating the incident, however initial reports suggest that there was no criminal behaviour and it is unlikely that the driver will be charged for homicide. Initial investigation findings show that the driver was not under the influence of alcohol and was not driving recklessly. Police will be questioning the 35 year old pedestrian who was the cause of the accident once he has recovered from his injuries.