A school bus in Northern Indiana crashed into the back of another bus, causing a chain accident involving a total of four buses. The bus accident left scores injured, but fortunately, no one was killed. Middle and high school students sustained minor injuries while one bus driver sustained a serious injury. The bus accident apparently occurred when one bus stopped to drop off a student. However, the driver of a bus immediately behind the first bus was not able to stop in time and crashed into the first bus. In succession, two more buses joined the chain until the accident involved four buses.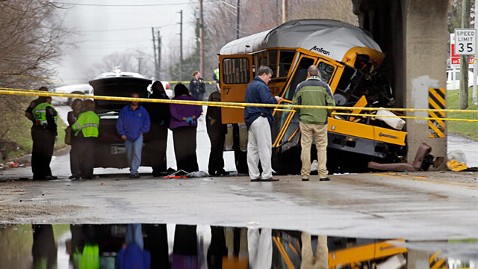 The Kosciusko County Sheriff said that the seriously injured driver had been flown by helicopter to Parkview Hospital in Fort Wayne. The accident occurred 40 miles west of Fort Wayne, where the driver was flown to. The Sheriff further disclosed that the number of students from Wawasee School Corp in the buses totalled more than 100. Students who sustained injuries were treated at the Kosciusko Community Hospital and discharged later on. The hospital's spokeswoman Joy Lohse said that 43 people were treated at the hospital, but that there were no individuals in need of serious medical attention. She also said she had no further information about how many of those taken to the hospital were students. A nurse at IU Health Goshen Hospital said that the four students who were taken there had been treated and were in good condition. The area Sherriff said that a handful of students may have been handed over to their parents and treated for minor complications later on.
The cause of the accident was not immediately known. Photos from the bus accident revealed that the bus at the end of the chain sustained quite a large amount of damage on the front. Its hood fell down onto the road, as can be seen in the photos. The front bus was also damaged badly on the back. It was impossible to determine the extent of the damage on the two buses in the middle.
Children who were not injured were immediately transported to Wawasee Middle School via another bus and handed over to their respective parents. The immediate situation of the driver suffering from serious injuries is not known at this time. Although the accident involved more than 100 victims, everyone with the exception of the driver flown to hospital was in good health after treatment. Most of the students didn't sustain any injuries from the crash.