VA security camera at Fifth Street and Broadway in Los Angeles caught the tragic scene when a tow truck slammed into an MTA bus on Wednesday, June 19, 2013. The accident killed the 47-year-old bus driver. Police are looking at the case as a murder investigation.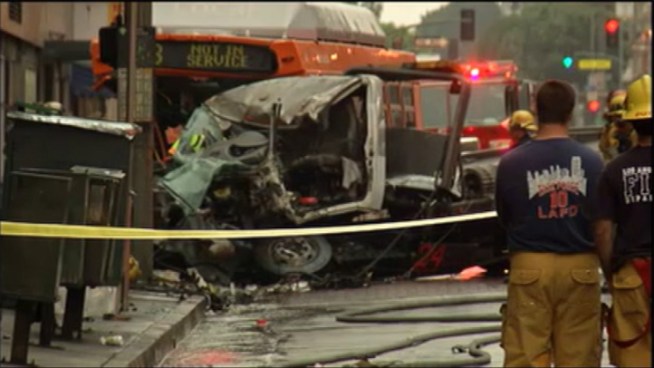 Flowers, cards, and other items in memory of the bus driver, who has been identified as 47-year-old Olivia Gamboa, have been left at the intersection of Fifth Street and Broadway. Several mourners have visited the location.
Gamboa, of Montebello, was pronounced dead at a hospital after she was thrown from the bus when it was struck by a tow truck. Witnesses state that the tow truck entered the intersection by running a red light.
Witnesses also told police the tow truck was traveling at speeds around 60 mph on downtown streets.
Sgt. Greg Hoyte, who is the LAPD Central Traffic Watch Commander says, "We're looking at a murder investigation."
One of three surveillance cameras that provided police with video of the crash was facing south, toward Fifth Street, from a building on Broadway. The video shows the truck, traveling south on Broadway as the bus operated by Gamboa entered the intersection.
The force of the collision tore off the front of the bus, which nearly tipped onto its side upon impact.
"I have too much anger in me against that person. He shouldn't have been out driving," said Gamboa's Metro co-worker, Maureen King, of the tow-truck driver.
Gamboa police were told by witnesses that they found Gamboa face down in water from a fire hydrant that was destroyed in the crash. She was rushed to a hospital where she was pronounced dead on Wednesday morning.
"I would always see her on #18 bus doing her job. I remember recalling once that she let me in for free just because I didn't have enough money. It's just really heartbreaking," said bus rider Katherine Ramirez, who visited a growing memorial at the crash site.
The tow truck driver, 43-year-old Yosef Adhami, doesn't have a valid driver's license. Adhami has numerous suspensions from the Department of Motor Vehicles. During his last suspension, he surrendered his license.
Adhami also has a criminal record, including fleeing from police. He was involved in a standoff with police in Lackawannock Township, Pa., in January 2008 after leading officers on a pursuit. Adhami was peppered-sprayed after telling police he had a bomb strapped to his body. No explosives were found. Police had tried to stop him for speeding.
Adhami was listed in grave condition at the hospital.