A school bus accident occurred close to Wadsworth on April 5, 2013, resulting to the injury of 28 children and the death of the driver of another vehicle, Philip Smith. The accident happened at the intersection of Kilbourne Road and Route 173, approximately one mile from Newport Elementary School.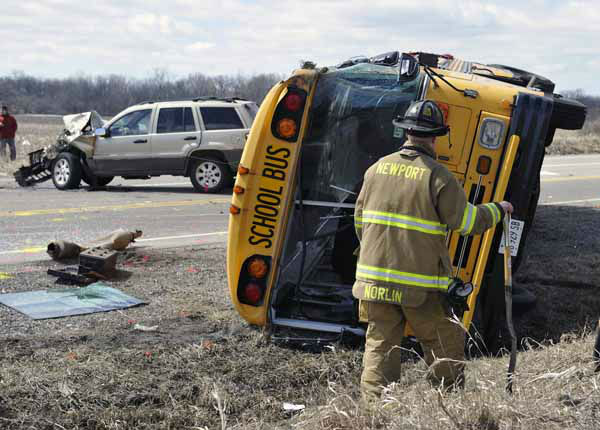 Investigators are currently trying to determine who was to blame for the bus crash, which caused the large vehicle to topple over. According to inspectors, the bus collided with a Jeep Wrangler then toppled over, hitting a Jeep Cherokee. The school bus was going west on Route 173 at Kilbourne. Smith was the driver of the Wrangler. The Cherokee had a couple of adults who were also injured.
Lee Bass, 10 years old, survived. The deceased Smith was a businessman who loved flying and came from Beach Park. Smith is survived by his wife, a granddaughter and two daughters. 34 children in all were brought to triage and were given green and yellow cards. Yellow cards were given for minor injuries while green cards were provided to those who had no injury and were free to go. Red cards were handed out to those who were seriously hurt.
According to Sheriff Sgt. Sarah Ballmos, they are still not sure who or what was the main cause of the bus accident. Bass shared how happy they were that he was given a green card. The majority of the kids were allowed to go home afterwards.
On the afternoon of May 28, 2013 in Delaware County, a car slammed into the rear of a school bus. The accident occurred past 3:00 p.m. near Chelsea Parkway and Route 322 in Upper Chichester, Pennsylvania, resulting in the death of the driver of the car, Brian Brlanski. Brlanski was 20 years old from Avondale, Pennsylvania. According to investigators, the driver was instantly killed due to the impact of the crash.
Brlanski was the only one hurt from the bus accident. The bus only carried one student, plus the bus driver and a bus aide who both walked away unscathed. Route 322 was closed during investigations but was reopened at around 8:30 p.m.
In India, a bus going from Farukkhabad to New Delhi fell into a canal on May 26, 2013. Investigators fear that more than dozen people may have died as a result. The bus accident happened about 265 km from Lucknow. 22 passengers were found alive while 8 dead bodies have been taken out of the Hazara canal. The senior official stated that the bus was full of passengers and that there were about 58 in all.