On  the 18th of September, Canada's capital of Ottawa experienced a catastrophic bus accident, taking 6 lives. The accident took place when a double-decker bus crashed against a passenger train. The anterior of the bus was ripped open.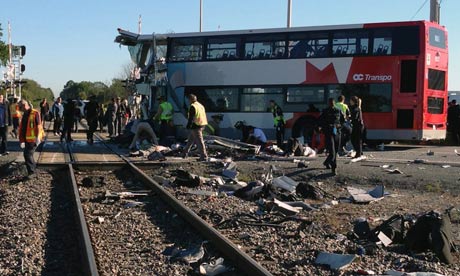 A passersby claims that the bus went straight through a blocked crossing barrier. The passerby overheard the passengers screaming to caution the bus driver to stop, but it was too late, as the collision took place immediately. Furthermore, another witness, Tanner Trepanier, who was also a passenger claimed that the passengers could see the train approaching when the bus reached the crossing
According to officials, 30 passengers were injured, and approximately 10 were in critical conditions. The accident took place at Ottawa's rush hour. The bus apparently rushed through a lowered crossing barrier and collided into the side of the four-car train that was passing by.
There are no reports of the passengers or the crew members on the train having received any injuries; however, one of the passenger cars was derailed consequent to the accident. The Ottawa-Toronto route was thus postponed for use, and all trains scheduled to travel through it were cancelled by Via Rail.
Another passenger remarked that as the bus was coming closer to the train, there was a 90-degree turn, and that he believed that the driver was not aware of the flashing signals warning the vehicle that the barrier was lowered. The bus operator OC Transpo, John Manconi said that the cause of the accident is yet not understood.
After the devastating derailment of an oil train in Quebec, which killed 47 people earlier this year, the Ottawa bus crash is the second most significant rail accident the country has witnessed.
The bus is reported to have hit the train dead on. Another passenger, Rebbecca Guilbeault claimed that she had settled her one-year old onto his push chair right before the crash, and after it had taken place, many passengers piled on top of him because of the impact. She further said that because the bus driver did not stop, it is likely that he blacked out right before the collision with the train took place.
The accident site was extremely shocking, with a few dead bodies lying all around, one of which was torn in half. The National Transportation Safety Board is currently carrying out an investigation, and the lead on the case, Glen Pilon, claims that it is essential that they attain the black box recording in order to scrutinize what the bus driver perceived before the crash happened.