On Sunday evening, a bus overturned on a highway in South Africa's eastern region. The passengers were young girls who were coming back from an annual Zulu tradition. Officials have reported that along with the driver of the bus, around nine girls have been killed, with 60 others injured.
The accident took place around 5:45 PM local standard time on the R34 and R66 intersection located in Melmoth, a town in eastern KwaZulu-Natal province. The bus slid down the road before ultimately coming to a halt as it smashed into traffic barriers.
Netcare 911, an ambulance service, made their spokesperson Chris Botha available for comment. He reported that the bus had been pierced by Armco barriers when paramedics and emergency services arrived at the scene. He also added that many of the injured had already been removed from the site by private transport before the ambulances arrived.
The initial report by Botha stated that around eight people had been killed, including six men and two women. However, regional authorities later increased the toll to ten with the young girls leading the casualty list. An estimate given for the number of injured victims stood at 60, with at least 2 people suffering from serious injuries.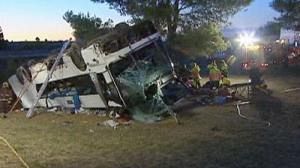 The bus was carrying around a dozen girls as they were returning from the Nyonkeni Royal Palace in Nongoma after attending the Umhlanga Reed Dance Ceremony. Although other sources had a separate breakdown, the provincial health department said that the ten deaths included nine girls and one adult, who is believed to be the bus driver.
South African President Jacob Zuma expressed his sorrow at the horrific news, adding that this was a demoralizing episode after a successful event which promoted self-confidence amongst young women in the society. He also expressed condolences to the King of Zulus, King Zwelithini, who represents South Africa's largest ethnic group.
Umhlanga, also known as the Reed Dance Ceremony, is an important cultural tradition for the Zulus that takes place every year in September and involves young girls. The purpose of the tradition is celebrate the purity and pride of young women, and aim for them to delay their sexual activity until they are married. Tens of thousands of young women take part in the ceremony. The Reed Dance Ceremony has become a very well respected and famous tradition for the Zulus.
Thembinkosi Willies Mchunu, the Provincial Official, mentioned a worrying trend that pointed at a lack of awareness regarding road safety, which has resulted in many fatalities of young children. He said that this incident would be thoroughly investigated and all possible scenarios would be taken into account.