1. A bus crashed this last evening (Saturday, April 13th, 2013) just south of Yosemite National Park as a group of elderly park visitors left the reserve. The California State Highway Patrol reports that a total of 16 people out of the 17 aboard were injured in the bus crash.
The bus was traveling on Highway 41 near local road 630 at approximately 6pm in the evening when it veered off the road. No passengers were apparently critically wounded, but all were transported to three different local medical facilities for examination.
Officers state that the driver, the only person on the bus not injured, lost control of the bus while driving 40 miles per hour and that the bus was brought to a stop when it crashed into a roadside tree. The presence of the tree actually saved the bus from falling down a ravine, said Sergeant Edward Greene.
The newspaper said the injured people — the majority of whom were elderly — were taken to three area hospitals with minor to moderate injuries.
2. Yesterday afternoon, a Washington D.C. Metrobus crashed into a private minivan, resulting in 15 injured passengers.
A Metro spokeswoman reports that Bus A9 was on Martin Luther King Jr. Avenue when the minivan improperly changed lanes in the front of the bus. The minivan's driver was cited for the error at the scene of the accident.
Lon Walls, spokesman for the D.C. Fire Department, reports that 2 of the 15 injured passengers sustained serious injuries, but are in stable condition.
3. A bus crash in Ranst, Belgium near Antwerp took the lives of 5 Russian young people and injured 12 this morning at approximately 6:30am local time. Ranst Mayor, Lode Hofmans, says that the bus crashed through a guardrail on highway E34 and fell sixteen feet onto the field below. The bus overturned and threw passengers out of the bus as it fell.
It was a Polish bus transporting 42 people from Russia to Paris. The dead include the driver of the bus, an adult sponsor for the group, and three teenagers.
No other vehicles were involved in the crash and investigators are still trying to determine the cause of the bus crash.
4. Finally, a crowded bus in Trujillo, Peru crashed into the Moche River yesterday morning at approximately 4am local time, killing 33 passengers. Local news reports that besides passengers filling the seats, there were also many standing in the aisles, no doubt contributing to the number of fatalities.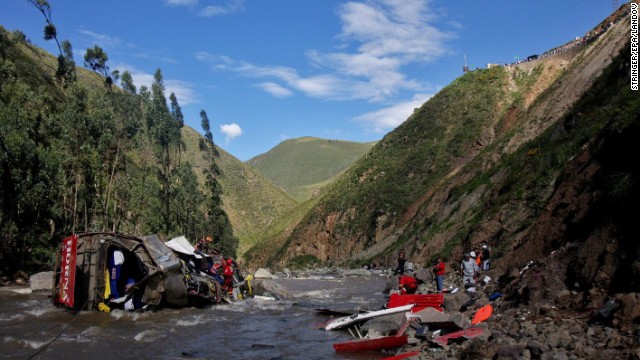 The bus was traveling from Huamacho to Trujillo. The reason for the bus crash is not immediately apparent, though the early hour of the drive and driver drowsiness is at the top of the list of suspected contributing factors.